Club Impulse in Independence, OH, offers a diverse menu. From delicious salads to mouthwatering sandwiches, our menu has something for every palette here. Our bar is a must-see, stop in for a tasty drink and to unwind.
Appetizers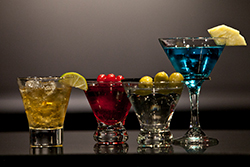 Teriyaki Pot Stickers $6.95
Seared with Asian Sesame Soy Dipping Sauce
Maryland Crab Cakes $9.95
Four Mini Lump Crab Cakes Drizzled with a Tangy Remoulade Sauce
Boom-Boom Shrimp $8.95
Tender Crispy Shrimp tossed in a Sriracha Chili Sauce
Italian Flat Bread $7.95
Fresh Mozzarella, Pepperoni, Italian Sausage, with Italian Marinara
Chips & Salsa $3.95
Crispy Tortilla Chips, Served with Fresh Salsa & Corn Relish
Tomato Bruschetta $6.95
Chopped Fresh Tomatoes with Garlic, Basil, Olive Oil & Balsamic Vinegar & Fresh Mozzarella & Served with oven baked Focaccia Bread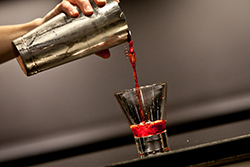 Caprese Flat Bread $6.95
Fresh Mozzarella, Tomatoes & Spinach with Olive Oil & Fresh Basil
Quesadilla $8.95
Baked Tortilla filled with Bacon, Scallions, Jalapeno, Tomato, Chicken & Cheddar Jack Cheese
Traditional Beef Sliders $7.95
Three Sliders topped with Cheddar Cheese, Sauteed Onion, Pickle and French Mustard.
Spinach Artichoke Dip $7.95
Creamy Blend of Artichokes & Spinach, Served with Crispy Tortilla Chips
Mozzarella Wedges $6.95
Italian Seasoned Breaded Triangles of Mozzarella served with Marinara Sauce
Pulled Pork Sliders $7.95
Slow-Roasted Pulled Pork Topped with our House BBQ Sauce
Signature Wings $8.95
10 Crispy Wings, tossed in your choice of one of our Signature Sauces – BBQ, Hot or Sweet Chili, Seved with Celery Stick and your choice of House made Ranch or Cream Bleu Cheese
---
Dinner Menu
Impulse Salads
Classic Caesar $9.95 Add Grilled Chicken: $12.95 Add Grilled Salmon: $14.95
Fresh Romaine Lettuce, tossed with Shredded Parmesan Cheese, Croutons and a Traditional Caesar Dressing
Cobb Salad $10.95 Add Grilled Chicken: $12.95
Chopped Greens, Black Olives, Shredded Cheese, Avocado, Sliced Egg, Chopped Bacon, Crumbled Bleu Cheese and Tomato
Impulse Sandwiches
Presented with your choice of French Fries, Cole Slaw or Fresh Fruit
Michael's Burger $9.95
1/2 pound Angus Beef, built with Pepper, Onion, Mushroom, Bacon, Lettuce, Tomato, and choice of Cheese
The Classic Reuben $9.95
Shaved Corned Beef, Sauerkraut & Thousand Island Dressing on Grilled Deli Rye
Club Croissant $8.95
Shaved Smoked Turkey, Ham, Swiss, Bacon, with Lettuce & Tomato
Shaved Roast Beef Philly $9.95
Piled High on a Hoagy Roll with Sauteed Onions, Peppers, Mushrooms & Melted Provolone
Grilled Italian Club $8.95
Sliced Turkey, Ham, Salami & Provolone Cheese with Lettuce, Tomato, Onion & Italian Dressing on Cibatta
Grilled Chicken Monterey $8.95
Grilled Chicken Breast topped with Monterey Jack Cheese, Tomato and Avocado
Impulse Entrees
Presented with Warm Rolls, choice of House Salad, Caesar Salad or Soup Du Jour, Fresh Vegetables & choice of Baked Potato or Rice Pilaf
Delmonico Ribeye $17.95 – 12 ounce
Caramelized Onion Demi Sauce on the Side
Chicken Penne $15.95
Grilled Chicken with Pesto Cream Sauce
Pan Seared Tilapia $17.95
Lightly Seasoned and Pan Seared with Lemon Butter Sauce
All Fare is Served Monday to Friday until 10 pm
Wine List
House Wine
Berringer
White Zinfandel
$6.25 Glass     $25.00 Bottle
Copperridge
Chardonnay, Cabernet, Merlot
$6.25 Glass     $25.00 Bottle
Bela Sera
Pinot Grigio
$6.25 Glass     $25.00 Bottle
Covey Run
Reisling
$6.75 Glass     $27.00 Bottle
Canyon Road
Sauvignon Blanc
$6.25 Glass   $25.00 Bottle
White Wine
Barefoot
Moscato, Pink Moscato
$6.75 Glass     $27.00 Bottle
Chateau St. Michelle
Chardonnay
$6.75 Glass     $27.00 Bottle
Reisling
$6.75 Glass     $27.00 Bottle
Ecco Domani
Pinot Grigio
$6.75 Glass     $27.00 Bottle
Santa Margarita
Pinot Grigio
$50.00 Bottle
Kendall Jackson
Chardonnay
$9.00 Glass     $36.00 Bottle
Jekel
Riesling
$9.00 Glass   $36.00 Bottle
Red Wine
Ranch Zabacho
Zinfandel
$8.75 Glass     $35.00 Bottle
Blackstone
Merlot
$6.75 Glass     $27.00 Bottle
Napa Valley
Pinot Noir
$7.25 Glass     $29.00 Bottle
Woodbridge
Malbec
$6.25 Glass     $25.00 Bottle
Robert Mondavi Private Selection
Cabernet, Merlot
$6.75 Glass     $27.00 Bottle
Yellow Tail
Shiraz
$6.50 Glass     $26.00 Bottle
Kendall Jackson
Pinot Noir
$9.00 Glass     $40.00 Bottle
Sparkling Wine
House Champagne
Cook's Brut
$24.00 Bottle
Chandon Brut
$45.00 Bottle
Martini & Rossi
Asti Spumante
$30.00